What to Pack For The Tropics
Our girls went to the Philippines recently. They had to pack light for the tropics. For Asian air travel between islands, their packs could only be 22 pounds.
They were going some places they would need to backpack. And they had some adventures planned; like hiking, camping, scuba diving, snorkeling and general exploring as well as going to Church gatherings. They needed to cover a few different bases as efficiently as possible.
So when they got home, I asked them what they packed that had worked, (primarily focused on first aid items), what didn't and what they wished they had brought. Here's the breakdown for any of you going on a backpack trip to the tropics soon.
The first 5 were sponsored by T's Tonics, of course, but they said they were all greatly needed and used.
What worked (for them) in the Tropics:
Natural Sun Block, waterproof, lots needed
Sun Soother Spray– they used it all and wished they had more
Traveler's Spray– disinfectant
Skeeter Beater– bug repellent
Band-Aids
Peppermint oil and ibuprofen for pain, headaches, digestion
Nausea medicine – 1 girl got sick and used it all, they needed more
Melatonin vitamins for the long flights and sleeping
Dramamine for rough boat rides
Vitamin A and E for sunburns
Electrolytes- they used Emergen-C and loved having this when they got dehydrated
Liquid soap (= laundry detergent)
Travel packs of tissue (= toilet paper)
Sarong- (= towel, cover up, beach blanket etc)
Travel Bible
ear buds
Zip lock bags
Granola bars and jerky- wanted more of these too
Comfortable, all purpose sandals/flip flops; they wore their Teva sandals everywhere
Snorkel, mask and fins
Things they wished they had brought:
Tropical ear solution (easy recipe below)
Dry shampoo
Hat
More immune boosters
More quick proteins
Their Advice:
Get small change in the airport – most places couldn't make change for bigger bills
Buy and drink lots of water –it is easy to get dehydrated
Wear a swim shirt when snorkeling
No need for an electrical adaptor there
Bring more Sun Soother!
Ask around and know prices before buying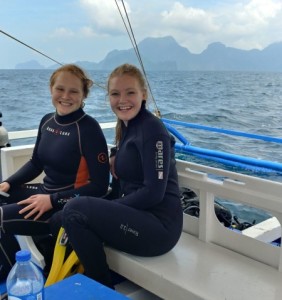 Tropical Ear Drop Recipe:
1/3 part hydrogen peroxide (kills bacteria)
1/3 part white vinegar (balances pH)
1/3 part rubbing alcohol (dries water)
To this mixture add vegetable glycerin to make 5% of solution (emollient).