Refreshing Mo-Tea-To
This "Mo-Tea-To" green tea version of a Motito was well liked when it made it's appearance at the Bend Art Walk.
It is a flavorful, sparkly and refreshing drink with a feel-good peppermint finish. The green tea gives the traditional summer time recipe more depth and interest, I think.  People were asking for the Mo-Tea-To recipe, so here it is:
Mo-Tea-Tos
4 oz T's Tonics Lemon Refresh-Mint Tea, prepared, (follow directions on back).
2 Tbs Raw Honey Simple Syrup
2 oz. Spritzer or Sprite
2 slices lime
10 pc. Mint leaves (optional)
2 oz light Rum (optional)
It was very easy to make as the T's Tonics Refresh-Mint Tea itself has the 3 main ingredients of Green Tea, Peppermint and Lemon.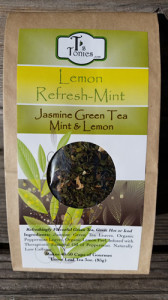 Prepare a cold infusion of lemon Refresh-mint tea.
You can do this by steeping a tea strainer of the tea in 16 oz. (or 1/2 cup for a gallon) of hot water for 4 minutes and then cool it down in fridge with a ziplock bag of ice submerged in it for speed.
You can also make a sun tea by putting 1/8 c lemon Refresh-Mint in a glass jar, activating the leaves with a covering of warm water, then filling the rest of the jar with cool water and placing covered in a sunny window or warm spot for a couple hours until ready.
Make a simple syrup. I made a honey mint simple syrup for my recipe.
Here's how:  A simple syrup is simply made by heating 1 part sugar to 5 parts water.
I used raw local honey instead and steeped a few sprigs of fresh peppermint leaves in it as it was heating. I then strained it 
into a glass measuring cup and put it in the fridge to cool.
Slice lemons and limes. I juiced 1 lime and 1/2 lemon to add to my gallon of tea.
Blend the cold tea, spritzer or sprite, some lime juice, the simple syrup and light rum, if desired, together. Add ice cubes, slices of lemon and lime and fresh mint sprigs to garnish.
Serve and enjoy!