Mulling Cider, Wine and the Air!
Spice up the air or mull cider or drinks with this delicious all natural blend of Spices that warm the season and transform our spirits.  
Mulling Spices               
Use Organic fresh or dried:
1 c. All Spice,
1 c. Cinnamon Chips or 3-4 sticks
1 c. Orange Peel or 5-6 slices of  fresh Orange
1/2 c. Lemon Peel or 5-6 slices of fresh lemon
1/4 c. Cloves,
1/4 c. Ginger Root.
The dried spices mixed together will keep well for many pots of spiced cider or wine. If using fresh ingredients, use immediately. If you don't want to mix your own, we have organic mulling spices already blended for you, found locally. Available here soon.
There is something so comforting about the aroma of warm spices filling the air. It makes us feel like delicious treats are baking and good things are happening. I have been in love with my kitchen all over again lately because we have been mixing and mulling cinnamon, orange and cloves into chai spice drinks.
I never get tired of those scents. Actually, all of the spices used for mulling are not only warming for the circulation and help ward off colds, they are aphrodisiacs (encourage love feelings). Yay! Great for cold winter days and holiday fun!
Spiced Cider
Simmer 2-3 Tablespoons of the spice blend above in 1 gallon of cider in a large pot on the stove or in a crock pot until warm. Ladle into festive mugs as needed leaving the spices behind. Enjoy!
Mulled Wine Recipe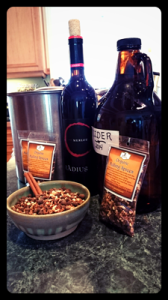 1 bottle of dry red or white wine (a Merlot is good)
2-3 Tbsp. T's Tonics Organic Mulling Spices
2/3 c sugar
½ c. brandy
Mulled or spiced wine has been a European holiday tradition for thousands of years. It is easy to make and a warming and flavorful way to create holiday cheer.                                                                                       Pour wine into non-aluminum saucepan and simmer on low, add spices, sugar and brandy and steep, stirring occasionally, until hot. Serve into festive mugs as needed leaving spices behind. Enjoy!