Staying Healthy This Winter – Simple?
Winter has shown up in Central Oregon!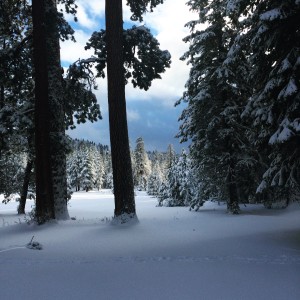 So much so, in fact, that I joked with my friend the other day that "it's hard to tell Bend from Mt. Bachelor."  It's snowed so much in the past month that I've been forgetting what everything looked like without a colossal blanket of white over it. However, if you think that a little snow is stopping locals from getting outdoors, you're wrong. The residents of Bend are as active as ever, because they're getting creative. How? Just look outside –Bendites these days are getting their errands done by snowboarding and skiing around town!
While you may be one of these winter go-getters, playing in the snow does have its drawbacks if the correct measures aren't taken first. During the cold weather season, bodies become more susceptible to catching bugs like the cold, the flu and pneumonia. In fact, as you expose yourself to cold weather, your air passages and skin dry out. This means that you become dehydrated faster which makes it all the easier for viruses to sneak in. Now, I know that I'm not the type of person that likes to spend hours mixing up cocktails of vitamins and supplements to find the perfect cold cure. So instead, I've found two quick, and ridiculously simple immune fixes that are easy to administer daily at your own home in under a minute.
This first winter health remedy is one that I've been loving for external protection –an incredibly handy organic balm by T's Tonics. It's called "Grab Salve" and it works on pretty much everything you want to grab it for.
Enthusiastically built for cuts and burns and infections, this salve has proved itself the perfect winter friendly pocket accessory for chapped lips, noses and hands as well. In fact, I've successfully used it in place of chapstick probably more times than I'd like to admit! It's great for cracked heels too. It can be found in Bend at the Patagonia store.
My other favorite winter hack is easily green tea. Loaded with vitamins and nutrients, I've made it a point to drink at least one cup per day since fall began.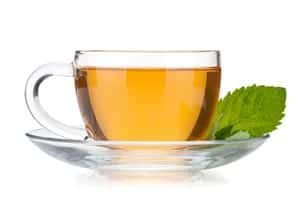 Did you know that one cup of green tea has up to 10% of your vitamin C for the day? To further the healing properties, I've been loving adding in a special Jamaican flower called hibiscus. In addition to boasting beautiful pink petals, this flower is wonderful for helping the body with its naturally high vitamin C and antioxidant content. Besides being warming to the soul, green tea with hibiscus is also the perfect way to give your immune system that vital boost! T's tonics has made a deliciously health-conscious tea that includes both of these goodies, PLUS orange peel, lemon peel, rosehips and more boosters and you can find the link here: Citrus Hibiscus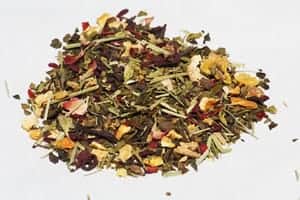 It's easy to stay healthy for all the winter fun, all it really takes is a little know how and a couple quick tricks –like tea and a pocket-sized multi-use balm. If you have any stories or quick natural fixes that work for you, feel free to share them in the comments below. After all, exchanging experiences is what helps us grow and stay healthy for the stuff that matters –like skiing, sledding and snowball fights!
contributed by Isabella Moseley