7 More Healthy Uses for Travelers Spray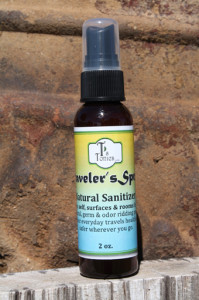 Traveler's Spray is a great way to ensure you travel healthy both near and far. But it's more than just another hand sanitizer. Here's the specs:
Great for use on surfaces, cars, bathrooms, beds, luggage, skin, air, clothes, and pets
and anywhere else germs and odors may be.
Skin, kid, animal and earth friendly.
Filled with natural oils that are proven to kill 99.96% of surface and air-borne bacteria.
Wonderful smelling with natural cinnamon, clove, orange and more.
no GMOs, 100% organic
So we've been using this for a while, the kids taking it to school, on trips, in the bathroom and the cars and we noticed it has some other good uses. We wanted to share them with you and we would love to hear any you have found too!
Bonus uses:
Athletic wear:

After a lot of use it seems like odor just stays in some clothes even after they are washed. The essential oils in the Traveler's Spray kill germs and can help to neutralize the odor of sweaty gear.

Stinky Shoes:

That goes for shoes too. Shoes and sandals that are worn without socks can become down right scary in the odor department. Liberally spray the insides with the Traveler's Spray for added health, protection and odor control!

Wrinkly clothes:

While you are traveling or just on the go, you can use the Traveler's spray to help get the wrinkles and static cling out of clothes: just mist lightly over clothes and smooth down!

Bed Bugs:

Spray pillows and sheets in hotel rooms with Traveler's spray just in case!

Mold:

The essential oil blend in Traveler's Spray helps kill molds naturally.

Deodorant:

A great way to beat smells without clogging your pores with aluminum antiperspirants.

Car air freshener:

we keep one in the car to spray in the air or on ourselves to freshen up when needed.
If you have any other ways YOU love to use the Traveler's Spray, we would love to hear it! In fact, we want to hear so much that we will send you a FREE goodie bag of some of our products just for sharing!
Ingredients: pure water, organic aloe vera, organic witch hazel, organic rosemary extract, organic therapeutic grade essential oils of cinnamon, orange, lemon, eucalyptus lemon, clove, rosemary, cedarwood & pine.
5% of the profits from this spray go to help international student travel and natural resource protection.