Mountain Supply- the One Stop Shop for Local Outdoor Gear
"Being a family owned business ourselves, it's cool to have the opportunity to support local products."
-Mountain Supply staff member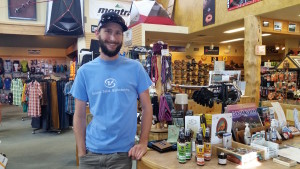 It would be an understatement to say that Bend is all about family owned businesses, local products and the great outdoors. In fact, a perfect example of all of these is a shop I visited very recently, and immediately fell in love with. Located in the heart of Bend, Mountain Supply buzzes with tourists and locals alike. And the reason? It's a wilderness explorers' wet dream. Offering everything from local products and info to the best of outdoor gear and apparel, Mountain Supply is family owned and crawling with northwestern culture. From popular brands like Patagonia, Prana, Smartwool, and Outdoor Research, to local brands like Hydroflask and Picky Bars, it's difficult to walk out without the gear you're looking for. As a result, it has brought in adventurer enthusiasts from far and wide that are eager to check out this shop's awesome aspects.
Hiking, biking, climbing, skiing.
You name it, Mountain Supply has the gear for it.
During my visit to Mountain Supply, I realized how deep their love for the community runs. And as I spoke with one of their friendly staff members, their product preference became clear. "It's really great to see entrepreneurs in the community and be able to support that," he said. "It's cool to spread their products to people coming into the community; whether as tourists or locals." And sure enough, stocked right on the front counter was a brightly organized selection of T's Tonics. "Skeeter Beater is probably our most popular product with T's Tonics," He said, smiling, "However, I think the Sun Soother is the only one of its kind that we have. After sun care is pretty neat."
Boasting over 35 years in business, it's no surprise that Mountain Supply knows Bend so well. Their helpful staff is extremely knowledgeable and ready to take on any outdoorsy question. With such a local vibe, Mountain Supply is a must-see for anyone wanting to experience Bend in the raw!
Mountain Supply is located at 834 NW Colorado Ave in Bend, Oregon and is open seven days a week from 10-6 Monday-Saturday and 10-5 on Sunday.
Contributed by Izze Moseley