6 Reasons Teas Are Popular Right Now:
Tea is flying off the shelves at an all time high lately. What is making teas so quick to sell when January and February are traditionally slow retail months?
Here are 6 reasons for tea's rising popularity, just for starters:
Baby, it's cold out there!
In these cold winter months, wrapping your hands around a steaming mug of tea is more than comforting! Having a hot drink helps take the frosty edge off the hard work of the day. Tea is a great option to other hot drinks because it is low in calories, yet high in healthy benefits such as anti-oxidants, nutritionally dense herbs and natural stimulants/relaxants. It is easy to get, easy to make, and can be steeped again and again.
Health, health, health
People are becoming educated on the many health benefits of tea. Beyond New Years resolutions to start the year out healthier, people are choosing to take personal charge of their health. Healthier food and drink options, in general, are in demand. Tea is one of the easiest, actionable ways to jumpstart and recharge health, because it is just adding a tasty drink into your routine. Drinking tea is an enjoyable way to lighten the load, energize the body systems, detoxify and cleanse, and increase the anti-oxidants and immune boosters to stay healthy through the winter.
Variety
There are so many different kinds of tea and tea blends now available! Blacks, greens, whites, reds, herbals, chai, mates, concentrates, bubble teas and more. Stimulating blacks to start the day, greens and citruses to continue the day, and mellow herbals for relaxing in the evening, there is tea for every occasion, time and season, hot or cold. When you get bored of one variety, just switch it up.
They are also used in more and more specialty foods, cocktails and mixed drinks. Recipes
Millennials
Consumer reports show that over 87% of millennials (those in their teens and twenties) are drinking tea. They are driving the market on specialty blends; preferring organics, loose leaf, green teas and variety.
In fact, consumer reports show that tea sales- specialty teas and loose leaf teas at the top- have increased over the last few years at a growth rate of 5-10 % each year, more than coffee, sodas or other consumables! (http://www.teausa.com/14655/tea-fact-sheet)
Price
When compared to other drinks, the value of tea far outshines, in both price per cup and nutritional quality per drink. Compare to sports drinks in energy and anti-oxidant levels. Compare to coffee beans and sodas. Compare to alcoholic drinks. Even organic, gourmet specialty teas are reasonable and sustainably priced per cup in comparison and many tea leaves can be steeped again and again!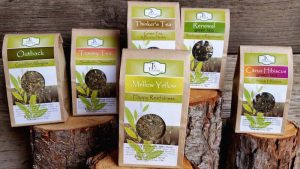 It's just plain Good
Amazing flavor, health, variety, mixing ability, price, popularity (tea is the most consumed drink in the world after water), need I say more?